Bridget Peterson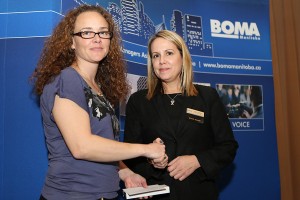 How does someone in the legal field get into property management? Just ask Bridget Peterson.
Armed with a legal assistant/secretary degree, Bridget was working at a law firm for approximately four years until a chance encounter with a property manager had her switch careers.
"His profession sounded very intriguing," says Bridget. "He offered me a job and I did a little bit of my own research. I took a plunge and decided to change careers."
"Every day in his routine was very different. Because it was so different on a daily basis, it seemed a little more exciting than the routine administrative work."
Fifteen years later, Bridget is a Premises Administrator for Manitoba Public Insurance, managing four locations within the city, and five staff members. In her portfolio, she's responsible for Manitoba Public Insurance's facilities on 1745 Ellice Avenue, 240 Kennedy Street, 801 Century Street as well their head offices at cityplace.
Bridget manages her five staff members to maintain those facilities and respond to hot/cold requests, space redevelopments, upgrades to furnishings, and more.
Bridget first started off her career in the industry in an administrative clerical role and moved on to leasing. Soon after, she began to take courses in BOMI's Professional Designation Programs.
"The property manager and my employer(s) really value those courses, the material offered, and the knowledge gained. I was greatly encouraged to follow that path versus other courses available in the industry."
After taking the courses on and off for 15 years, Bridget now has her Real Property Administrator, and Facilities Management Administrator designations from BOMI.
"I finally feel like I'm aligned with my peers in the industry. This educational component seemed to be the missing link. It makes me a valuable asset to my employer but also helps me to understand which direction the industry is moving in."
In the program, Bridget learned a vast range of topics such as engineering, mechanical, investment, operations and more.
"The courses, regardless of the designation of the program, offer such a broad scope of materials related to all areas of property and facility management. It seems to cover all of the bases."
"I have a much better understanding of the construction component of the industry as well as the sub-trades. It's important to have the ability to make informed decisions and ask the right questions. Without that knowledge, you could be taken advantage of."
"Bridget's the perfect example of how one can transition into property management," says Dawn LeRoye, Chair of BOMA's Education Committee and President-Elect of the Board of Directors. "We recognize that there's often no clear path to get involved in our industry which is why we continuously work hard to provide these educational opportunities for members to expand their knowledge."
For now, Bridget admits she's on a bit of a break from taking courses. But she's certainly keeping her eyes open to grow in the field.
"I can't possibly entertain having a career without having both practical and educational knowledge."